PEOPLE'S EARTH DAY RALLY
Environmental Justice for Bayview Hunters Point
& Treasure Island Residents!
Thursday, April 22, 2021, 12 Noon
San Francisco City Hall/Polk Street Steps – wear a mask/social distance
Demand Mayor Breed & Board of Supervisors:
● Declare MORATORIUM on Lennar's Shipyard development and
unsafe soil excavation!
● Declare PUBLIC HEALTH EMERGENCY!
● Conduct full retesting, safe cleanup & removal of all radioactive
and toxic waste at the Shipyard Superfund Site & Treasure Island!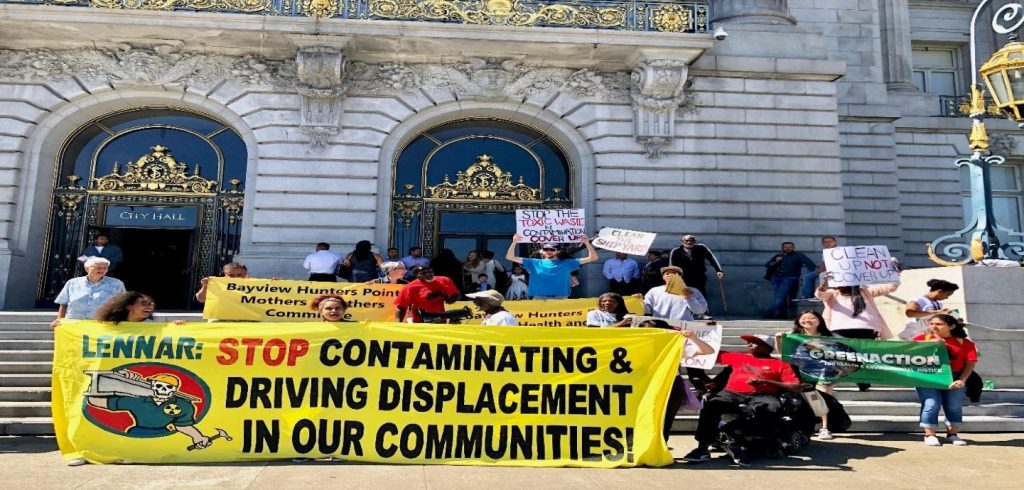 Peoples Earth Day Rally Sponsors: Hunters Point Community Lawsuit Plaintiffs, Treasure Island Community
Lawsuit Plaintiffs, Bayview Hunters Point Mothers and Fathers Committee, Greenaction for Health and
Environmental Justice, Marie Harrison Community Foundation, Hunters Point Community Biomonitoring
Program, SF Bay View, ANSWER Coalition/SF Bay Area, Our City, Breathe, Occupy San Francisco
Environmental Justice Working Group, Extinction Rebellion/SFBay, California Environmental Justice
Coalition, 350 San Francisco, Communities for a Better Environment – Richmond, Sunflower Alliance,
Literacy for Environmental Justice, PODER
For more info contact: hunterspointlawsuit@gmail.com and greenaction@greenaction.org (833) 926-6637 and (415) 447-3904 x 102
Click Here to Download In English
Haga clic aqui para descargar en Español
点击这里下载简体中文