APRIL 2019
---
MARCH 2019
March 19, 2019
Greenaction Issues Health & Pollution Warning for India Basin Park, San Francisco
March 19, 2019
Greenaction & Bayview Hunters Point residents Protest Lennar's Luxury Home "Open House" to vent to raise health and pollution concerns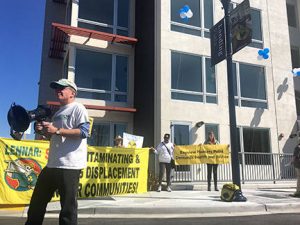 March 15, 2019
Greenaction, Whistleblowers & Residents of Treasure Island Sound the Alarm about radioactive and toxic "cleanup"
Other related publications: Media silent as Navy digs 1,280 radiological objects from Treasure Island" Read excellent story by investigative reporter Carol Harvey
March 14, 2019
---
FEBRUARY 2019
Greenaction for Health and Environmental Justice's submits scoping comments on the Shasta Dam Raise Project. Read now.
---
JANUARY 2019
January 10, 2019
Read letter from Greenaction & over 600 groups across US call on Congress to take strong action on climate as one part of a Green New Deal. 
January 9, 2019
Suspected shipyard contractor gets huge state deal for Camp Fire cleanup
The state agency in charge of wildfire cleanup has awarded a contract worth as much as $250 million to the company at the center of San Francisco's Superfund scandal — an environmental engineering firm that was caught falsifying soil tests and is being sued by the U.S. Justice Department, whistle-blowers and homeowners. Click here to read more.
---
NOVEMBER 2018
November 30, 2018
---
SEPTEMBER 2018
September 24-25, 2018
Greenaction appeals India Basin Mixed Use Development project due to air pollution and gentrification in Bayview Hunters Point
---
September 14, 2018
BREAKING NEWS! 
Radioactive Object Found Near Homes at Hunters Point Shipyard Where Government Promised There Was No Radiation
---
August 25, 2018
Laytonville, CA: R.I.P Louis Hoaglin, Chairman of the Wailaki Tribe
Our friend and warrior for justice Louis Hoaglin, Chairman of the Wailaki Tribe and long time resident of the contaminated Laytonville Rancheria, has passed after a heroic fight against cancer.

Condolences can be sent to Peggy Hoaglin and family c/o  Pastor David Sanchez  via email at   ldjlsanchez@hotmail.com

We will continue to work with the family, tribal members and allies to carry out Louis' struggle to get Laytonville Rancheria residents relocated from the reservation contaminated by the county's dumps that leaked into the community for decades, causing much death and illness.

For Health and Environmental Justice,

Greenaction Team