Mauna Kea, Hawai'i:
The protection of Indigenous Lands and sacred sites and landscapes go hand-in-hand.  The summit of Mauna Kea in Hawai'i is one of these sacred landscapes.  To Native Hawaiians or Kānaka Maoli, the mountain, Mauna Kea, represents many things; a place of worship, an ancestral burial site, and a life-giving source of fresh water.  The aquifer located within Mauna Kea provides fresh water for the town of Hilo and other surrounding communities. Greenaction advocates and supports the protection of Mauna Kea and is adamantly against the building of the proposed Thirty Meter Telescope (TMT) Project. The TMT project would have devastating and irreversible environmental impacts on Mauna Kea's fresh water aquifer and desecrate sacred lands. The TMT summit is already overburdened by thirteen previously built telescopes, which have been proven to leave toxins. Greenaction stands in solidarity with the "We Stand with Mauna Kea" and "Protect Mauna Kea" movements and protective actions.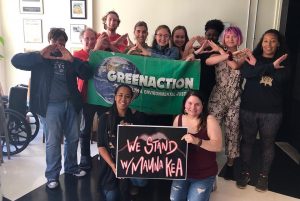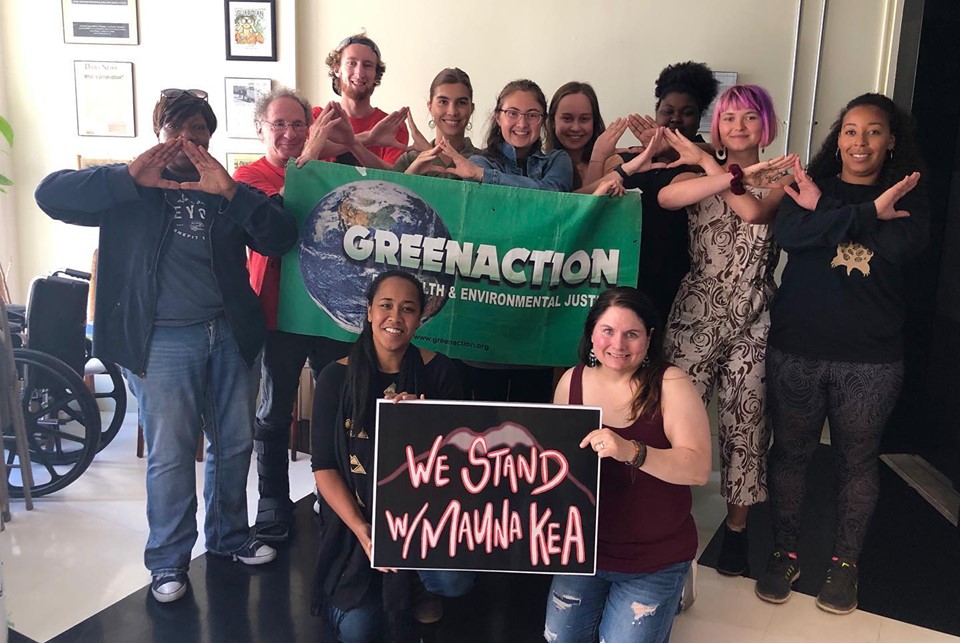 Kū Kia'i Mauna!
Click here to read more about the recent peaceful blockade at Mauna Kea, Hawaii.
TAKE ACTION NOW! CALL NOW TO HALT THE TMT CONSTRUCTION!
Governor David Y. Ige
(808) 586-0034
Contact the Governor Online
Contact Gordon and Betty Moore Foundation 
(650) 213-3000
NO TMT! Protect Native Sacred Sites:
Ask them: Why are you desecrating Mauna Kea????
Tell them: "NO TMT! Protect Native Sacred Sites
"Please Divest from Desecration"
Sign this Petition 
For more ways to stay updated and support the Mauna Kea Protectors, please visit:
     Weblinks
 Facebook Pages 

Use these Hashtags on Social Media
#ProtectMaunaKea #WeAreMaunaKea #MaunaKea #ProtectTheSacred #ProtectTheSource #WeStandWithMaunaKea #WeAreStillMaunaKea #NOTMT #TMTShutDown #WeStand 
Stay Tuned to Greenaction for more Direct Action!
Important Updates and Documents:
March 16, 2020: California Environmental Justice Coalition and Statewide Organizations sign on to urge the Chief of Staff and Board of Regents of the University of California to immediately divest from the Thirty Meter Telescope (TMT) Project currently scheduled for construction on the northern plateau of Mauna Kea, Hawai'i. Click here tor read the letter.
July 30, 2019: David Harper of Colorado River Indian Tribes delivered a letter of solidarity from his Tribe to the Mauna Kea Protectors in Hawaii July 30, 2019. As a co-founder and Board Member of Greenaction for Health and Environmental Justice, Dave also delivered a message of solidarity from Greenaction. Click here to read the letter. 
Mauna Kea UC Berkeley Protest Press Release
Kūʻe for Mauna Kea – Union Square SF 8/9/19
Click here to listen to a podcast interview by Mixcloud.com with Joy Lehuanani Enomoto about her experiences on Mauna a Wākea.