Greenaction Board of Directors
Our board is made up of grassroots leaders from communities on the frontlines of the movement for healthy communities and environmental justice. We have a dynamic, dedicated, and diverse board that guides our organization's work and helps keep us accountable to the communities we work with and for.
---
Maricela Mares-Alatorre
Community Organizer/ Policy advocate |
alatmig@netzero.net
Maricela Mares-Alatorre has joined our Board of Directors after serving on our staff as a Community Organizer and Policy Advocate with Greenaction for 12 years. Maricela is also the coordinator for El Pueblo Para el Aire y Agua Limpia/People for Clean Air and Water of Kettleman City. Maricela is a mother of two, and a long-time resident of the farmworker community of Kettleman City, California, home to the largest hazardous waste landfill in the western United States. She has been involved in the environmental justice movement. Maricela's parents were founding Board members of Greenaction. Maricela graduated from Fresno State University in 2000.  She has worked as a teacher, employment counselor, and parenting instructor. Maricela serves on the steering committees of the California Environmental Justice Coalition, Central California Environmental Justice Network, and the Central Valley Air Quality Coalition. Maricela is on the Board of Directors for the Kettleman City Foundation. Maricela played a leading role in the fight against the expansion of Chemical Waste Management's hazardous waste landfill, an effort that prevented the disposal of approximately 250,000 truckloads of toxic waste. Maricela was instrumental in the landmark settlement of the Title VI Civil Rights complaint filed by El Pueblo and Greenaction against the California Environmental Protection Agency and the state Department of Toxic Substances Control.  This historic settlement requires the state agencies for the first time to consider and comply with civil rights laws in their permit processes and permit and regulatory actions, including ensuring language access for non-English speaking residents and considering the cumulative impacts of pollution on vulnerable communities.
---
Alfredo Figueroa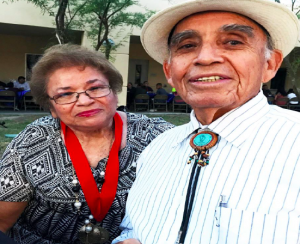 Alfredo is a leader of the Sacred Sites Protection Circle, working to protect Indigenous sacred and culturally significant sites from destruction and desecration. He co-founded Escuela de la Raza Unida in Blythe, California, and was co-founder of the United Farm Workers Union in the Coachella and Palo Verde Valleys. Alfredo was co-founder of the Colorado River Ward Valley Coordinating Committee. Alfredo was a founding Board member of Greenaction.
---
Teresa Johnson
Teri is a mother and advisor to Children for a Safe Environment in Phoenix, Arizona. Teri got involved when her daughter passed away after growing up in a contaminated community. In 1987, Teri and her surviving daughter formed Children for a Safe Environment. Teri was a leader in the epic statewide fight that defeated plans by the State of Arizona and the company ENSCO to build a hazardous waste incineration and landfill facility in the low-income town of Mobile, Arizona. Teri has been involved in the Indigenous Environmental Network starting with the first Protecting Mother Earth conference at Dilkon in the Navajo Nation in 1990. Teri was a founding Board member of Greenaction.
---
Nora McDowell
An enrolled Citizen of the Fort Mojave Indian Tribe, Nora was born and raised on the Fort Mojave Indian reservation located in Needles, California.  Ms.  McDowell has committed over 45 years to tribal government, starting her career in 1975 as a clerk for the Manpower program and working her way up to Tribal Council Secretary/Administrative Assistant in 1980.  Her interest in tribal politics began with her first tribal council campaign and election in 1981, when she began her first four-year term at the age of 24.  She is proud to have served on the tribal council and tribal community to this day.  As Fort Mojave Tribal Chairperson, Ms. McDowell's leadership was instrumental in forging many economic projects for the tribe.  Ms. McDowell felt it necessary for the Tribe to achieve total tribal self-sufficiency and to exercise its sovereign rights.  Nora has been recognized by many Native American organizations for her leadership and service.  Currently, Nora serves as Project Manager for the AhaMakav Cultural Center and oversees a hazardous waste cleanup at the Pacific Gas & Electric Compressor Station, which is located on a known sacred site area of the Mojave people.  Nora sits on the California EPA's Tribal Advisory Board, Water and Tribes Initiative working group on the Colorado River.  Nora is Co-Chair of the Indigenous Women's Leadership Network, a Member of the Colorado River Tribal Vision Group, Greenaction Board Member and is a founding Board Member of WEWIN—Women Empowering Women for Indian Nations.  Nora is the proud mother of 3 children and Grandmother to 11 grandchildren and 1 great-granddaughter.  Nora resides within the Fort Mojave Indian reservation in Mohave Valley.
---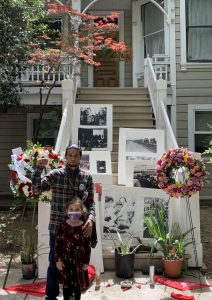 Ruben Rodriguez

Board Co-Chair
My name is Ruben Rodriguez. I am the son of immigrant parents and a
proud Xicano. I have lived on the west side of Fresno County for the
majority of my life and have come to understand the need for immediate
social action. My experience working in the field and growing up in a
farm working community has allowed me to see the struggles and
injustices that these beautiful and resilient people face on a day-to-day basis. I stand with those that want to make this world a better
place! We must all do our part in society to assure that we resist this
nonsense and defend what is right! For our children, our elders, and all
of our relations!
---
Lori Thomas Riddle
Board Co-Chair
Lori is the Director and co-founder of the Gila River Alliance for a Clean Environment (GRACE), a grassroots tribal member organization on the Gila River Indian Community reservation in Arizona working on environmental and sacred site and cultural protection. Lori was a leader in the fights that closed the Romic toxic waste plant and the Stericycle incinerator on the reservation. Lori and her family were poisoned by living on a site contaminated by pesticides.
---
Honorary Board Members
Esperanza Maya
Esperanza is a co-founder of El Pueblo Para Aire y Agua Limpio/People for Clean Air and Water of Kettleman City and helped lead the successful fight to stop the incinerator proposed by Chemical Waste Management. Esperanza was a co-founder of California Communities Against Toxics and was a co-founder of  Greenaction who served on our Board of Directors for over 22 years.
---
In Memoriam: Honorary Board Members
Judy Brady was a cancer activist, cancer survivor, and writer who works to unite cancer survivors with community and environmental health and justice organizations to stop cancer by stopping pollution. Judy was a founding Board member of Greenaction.
---
Tessie Ester was a co-founder of the Bayview Hunters Point Mothers Committee for Health and Environmental Justice, President of the Huntersview Tenants Association, and a leader in the victory that closed the polluting PG&E Hunters Point Power Plant.
---
Mamie Harper was Chairwoman of the Mohave Elders of the Colorado River Indian Tribes and was a leader in the victory against the proposed Ward Valley nuclear waste dump. Mamie and the Elders worked to protect their tribe from a hazardous waste company operating illegally on tribal lands that emits toxic contaminants into the air, threatening the health of the people and desecrating an adjacent sacred site. Mamie was a founding Board member of Greenaction.
---
Mary Lou Mares was a co-founding Board member of Greenaction and a
co-founder of El Pueblo Para el Aire y Agua Limpia/People of Clean Air
and Water of Kettleman City.
Mary Lou helped mobilize her community to defeat plans by Chemical Waste
Management/Waste Management to build a commercial hazardous waste
incinerator in her Central Valley farmworker town of Kettleman City,
California – one of the epic victories in the history of the
environmental justice movement.
---
Marie Harrison was a long-time Bayview Hunters Point community leader and served on Greenaction's staff from 1999 through 2017. When her illness made it impossible for her to continue on staff, Marie joined our Board of Directors until she passed in 2019. Marie led the campaign that closed the PG&E Hunters Point power plant and watchdogged its cleanup. Marie co-founded the Huntersview Mothers and Fathers Committee and helped mentor its members as they expanded from Huntersview Public Housing to a community-wide group, the Bayview Hunters Point Mothers and Fathers Committee for Health and Environmental Justice. Marie helped found and coordinate our Bayview Hunters Point Environmental Justice Task Force, and helped design and implement our model Diesel Education and Emissions Reduction Project.
---