SAVE THE WEST BERKELEY SHELLMOUND; PROTECT INDIGENOUS SACRED SITES ✨🦋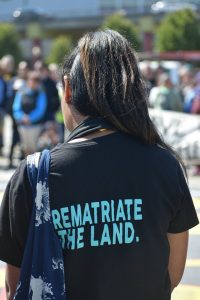 Last Thursday, Greenaction stood in solidarity with indigenous tribes, settlers, and migrants on Ohlone territory. We participated in the prayer ceremony and discussion lead by Corrina Gould and the Interfaith Movement for Human integrity. Corrina integrated reflections and rose questions to the audience regarding what it means to take space on indigenous land, the history of genocide in Ohlone territory, the connections of the treatment between indigenous peoples and migrants on our land, and how we can co-create a future together to celebrate our interdependence.
Our community organizer and policy advocate, Sheridan Noelani Enomoto, shared her perspective on her connection to Mauna Kea, an indigenous site that is sacred to native Hawaiians. We stand in peaceful determination to PROTECT sacred sites and respect the perspectives of indigenous peoples who continuously fight to protect sacred landscapes.
A Legal Update on Shellmound sacred site, provided by http://shellmound.org:
"Property owners Ruegg & Ellsworth and Frank Spenger Company sued the City of Berkeley in November of 2019 for rejecting their SB 35 application for a fast-tracked housing and retail development project at the West Berkeley Shellmound site. Early in 2019, Confederated Villages of Lisjan moved to intervene in this lawsuit, joining the City of Berkeley in defending the decision to deny permit approval. The case will be heard by an Alameda County judge on Friday, September 13. Please consider helping the Confederated Villages of Lisjan to cover mounting legal bills by donating to the shellmound legal defense fund at shellmound.org/donate"
Picture credit to Norm Sands ✨🍃