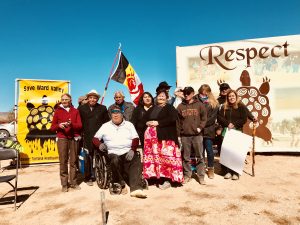 Greenaction's very first campaign in 1998 was to join with the Colorado River Native Nations Alliance to defeat the proposed Ward Valley nuclear waste dump in the Mojave Desert of California. A nuclear dump would have threatened the sacred lands at Ward Valley and also would have threatened the nearby Colorado River and the health and environment of the many nearby Native Nations. We join with the Tribes and allies every year to celebrate the 113 day occupation of Ward Valley that helped defeat the proposed nuclear dump.
Greenaction continues to work with indigenous peoples in the US and Mexico to protect their lands, sacred sites, culture, health and environment.  We work very closely with the Indigenous Environmental Network to protect indigenous lands and peoples from environmental threats. Dirty industries continue to target tribal lands, hoping to exploit tribal sovereignty to avoid city, county and state laws.  We work with indigenous peoples and Native Nations to oppose attempts by governments and industries who engage in or propose to engage in activities that desecrate sacred sites.
Campaigns:
Stop the Proposed Green River Nuclear Power Plant
Greenaction is working with the Fort Mojave Indian Tribe and tribal members from the Native Nations along the Colorado River to defeat plans for a nuclear power plant in Green River, Utah. As the Green River flows directly to the Colorado River, millions of people including many Native Nations who have lived along the Colorado River since time immemorial are at risk.
Environmental Justice in Gila River Indian Community, Arizona
Greenaction and the grassroots tribal member organization the Gila River Alliance for a Clean Environment have worked together since 2000 on many environmental health and justice issues on this reservation near Phoenix. Together we have won several big victories, including closing down two major polluting industries that imported waste from around the west, the Romic hazardous waste plant and the Stericycle medical waste incinerator.  Current efforts are focused on defeating the proposed Loop 202 freeway that would desecrate sacred mountain Moahkak Do'ag also known as South Mountain.
No Hazardous Waste Incinerator in Colorado River Indian Tribes, Arizona
Greenaction and the Mohave Cultural Preservation Program, a grassroots group from the Colorado River Indian Tribes have worked together since 1997 when MCPP members and Mohave Elders helped found Greenaction.  Together, with many allies, we defeated the proposed Ward Valley nuclear waste dump. Today we continue working to stop the burning of hazardous waste at the Siemens plant operating in violation of federal law on the reservation.
Fact Sheet on Hazardous Waste Incinerator in Colorado River Indian Tribes Lands
No Uranium Mill and Radioactive Waste on Sacred Sites in White Mesa Ute Community, Utah
Greenaction works with tribal members from the White Mesa Ute Community of the Ute Mountain Ute Tribe in southern Utah against the Denison Mines uranium mill that was built next to the reservation and on top of hundreds of ancient culturally significant and sacred sites. The mill emits radioactive yellow cake into the air and dumps radioactive and toxic materials in the land. Greenaction, tribal members, the tribe and allies won a big victory when we defeated plans to ship radioactive uranium tailings from Moab, Utah to the uranium mill. We continue to fight the mill's expansion plans.
Protect Geoglyphs and Sacred Sites against Mega-Solar in Mojave Desert, California
Greenaction is supporting Native Nations and the Sacred Sites Protection Circle in efforts to stop the destruction of burial and other culturally significant sites including ancient geoglyphs created in the desert thousands of years ago by indigenous peoples. Burial and cremation sites as well as geoglyphs, giant rock drawings on the desert floor, are threatened by massive industrial-scale solar power projects being built on top of and next to these sacred sites. These sites are also being harmed and threatened with further destruction by reckless ATV use
OPEN LETTER TO U.S. SECRETARY OF THE INTERIOR: Urgent Appeal to cease Blythe Solar and related projects in the Mojave Desert and Protect Sacred and Culturally Significant Sites
No Incinerators-in-Disguise on Indigenous lands or anywhere
Greenaction is working to educate tribal members and tribal governments in many Native Nations being targeted by an onslaught of proposals for new incinerators using gasification, plasma arc or pyrolysis technologies to treat garbage and other wastes. Companies are targeting tribal lands in an attempt to avoid city, county and state laws and are disguising these incinerators as "renewable energy."
ANALYSIS: Evaluation of the Oneida Seven Generations Corporation Proposal for a Pyrolysis Gasification facility at the Oneida Nation in Wisconsin (UPDATE: Tribal members voted down this project and it was defeated)
Learn more about the Campaign Against Incinerators-in-Disguise
Protect Sacred Ceremonial Sites in O'ohdam lands in Arizona and Mexico
Greenaction and the O'odham Rights Coalition have worked together since 2006 to protect the O'odham ceremonial site and village of Quitovac in Sonora, Mexico from desecration and pollution. Together we defeated plans for a hazardous waste landfill proposed close to Quitovac, and today we are helping protect Quitovac from new threats including mining.
NEWS ARTICLE: John Dougherty, "The Sacred and the Toxic", High Country News, April 16, 2007
Ward Valley, California — SAVED!
Greenaction joins with the Fort Mojave, Chemehuevi, Cocopah, Quechan and Colorado River Indian Tribes and allies every year to celebrate the historic victory won when the nuclear waste dump proposed for the sacred lands at Ward Valley was defeated. The 113 day occupation of the federal land at Ward Valley that began February 12, 1998 was Greenaction's very first direct action.
FROM THE ARCHIVES: Call to Action – Save Ward Valley!