Greenaction Leadership Programs
Gonzales Environmental Justice Youth Leadership Academy 2018
This year was Greenaction's fourth summer running the Gonzales Environmental Justice Youth Leadership Academy working with 10 youth in Gonzales, California. The goal of this Academy has been to capacitate youth to becoming competent youth organizers in their community.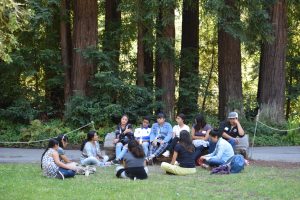 Our Leadership Academies are designed to capacitate our participants, particularly our youth, to take action and continue on-going work in their community beyond the academy.
We held discussions to find ways to design this years academy to have a greater reach beyond the students and hopefully lay the grounds down to growing our work into a youth-led campaign to address pesticide drift, one of the most pressing environmental injustice issues in Gonzales. Pictured here are our students on their trip to UC Santa Cruz where they spent the day learning about alternative solutions to the environmental injustices that are present in farmworker communities.